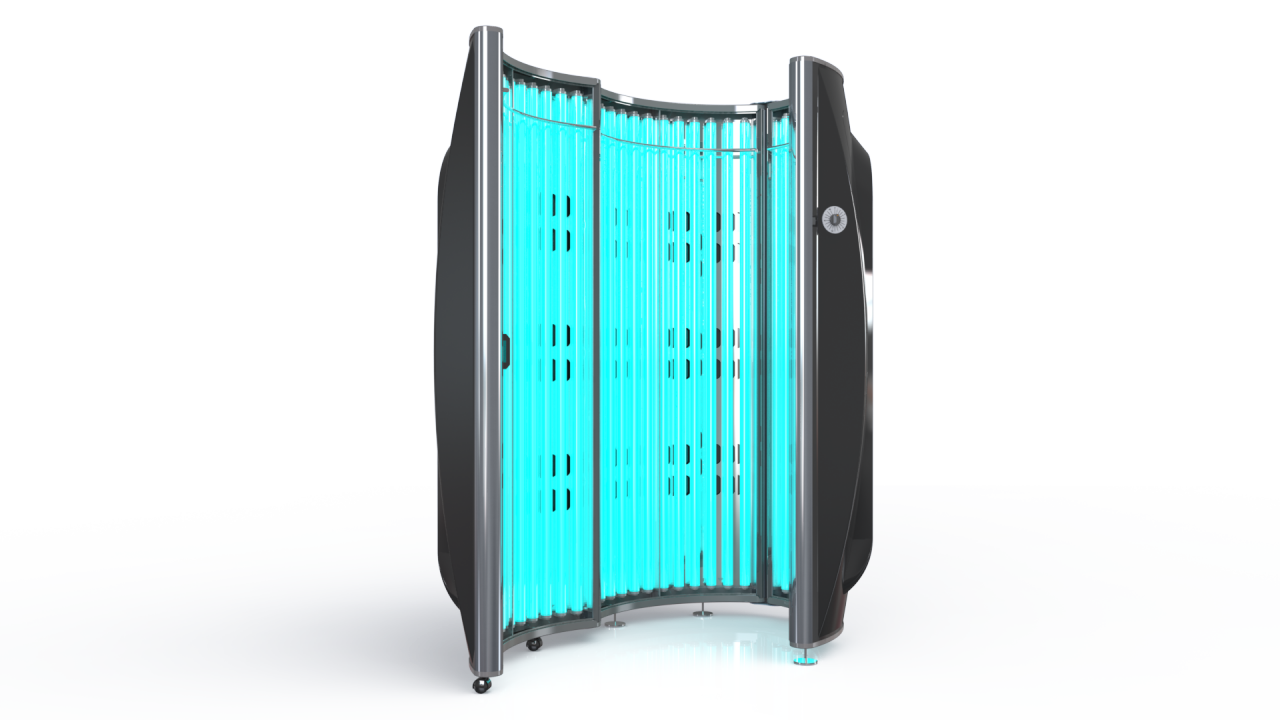 Galaxy 30 Tanning Booth
Style: Tanning Booth - 10 minute
Color: Black Pearl & Silver Trim
VHO Tanning Lamps: 30 VHO Reflector Tanning Lamps
Lamp Reflector: High Gloss Mirror Finish
Cooling System: Ultra Quiet (passive)
Dimensions: H 77" x W 48"
Electrical : 120 volts / 20 amps
Prefer A Stand Up Tanning System - Take A Look At The Galaxy Sun System 30 Lamp Tanning Booth.
We've known for years that many want a fast tan and prefer the benefits of a stand up tanning booth.
The Galaxy 30 lamp tanning booth comes equipped as a standard feature the very same high performance specially formulated vertically tanning technology of 10 minute / 1,000 hour tanning lamps in our Signature Series Stand ups.
Great space saver, easily plugs into 120v household outlet.
Select Series: Galaxy Sun System 30 Lamp Tanning Booth Technology
Total 30 high performance 10 minute tanning lamps with 3000 watts tanning power

10 vertical tanning lamps in all 3 sections for a balanced tanning experience

Specially formulated Vertical tanning lamps with 1,000 hours lamp life / up to 40 years tanning: No kidding!

Standard feature: High Gloss / Mirror Finish Reflector - increases tanning power up to 25%

Quiet, comfortable, fast tanning

ESB Green Energy Approved - no special wiring required, easily plugs into 120 volt house hold outlet

Premium Warranty

Get essential Vitamin D, naturally from just the right amount of healthy UVB light
Are You Looking For Super Fast Tanning, Enjoy Perfect Electric Sunshine That Totally Surrounds You! Then Galaxy 30 Tanning Booth IS the Right System For You!
Be Healthy, Tan at Home, Get Vitamin D...Naturally with ESB!

To receive your instant email with current PRICING on NEW ESB TANNING SYSTEMS,
please enter your name and email address, then click "Send". We do not Spam! Thanks!