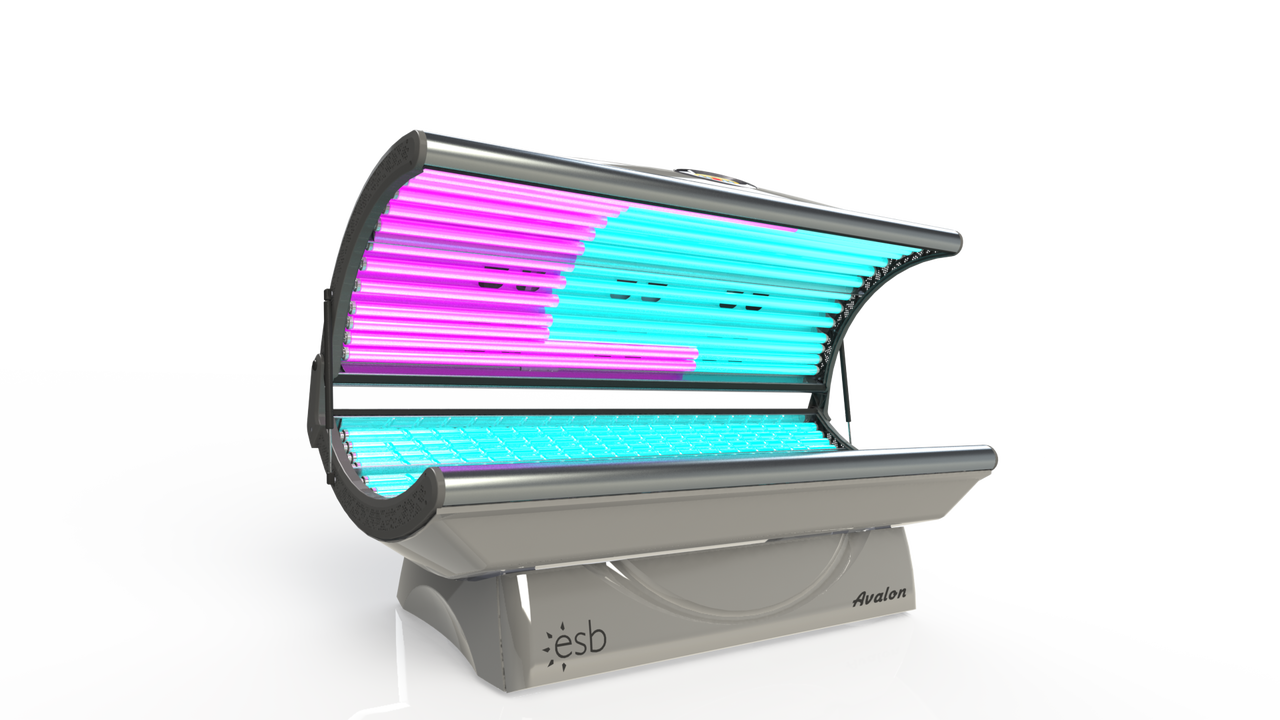 Avalon 24 Tanning Bed
Style: Tanning Bed - 15 minute
Color: Silver / Metalic Silver Trim
Tanning Lamps: 24 Sun Express Reflector Swirls
Face / Arm / Body: 8 pink and blue face swirl
Body: 12 blue swirl body lamps
Face / Body: 4 pink and blue face / arm/ body swirl
Lamp Reflectors: High Gloss - Mirror Finish
Cooling System: Head to Toe Total Comfort
Timer - Digital: Delayed Start / 2 Wake Up Alarms / Hr Counter / Safety Lock
Dimensions: H 37 x W 32 x L 76
Electrical: 120 volts / 20 amps
Why Is The Avalon 24 Tanning Bed Our Most Popular Tanning Bed?
About 12 years ago ESB was the first tanning bed company to create a 24 lamp tanning bed that plugged into a 120 volt household outlet. As a result of this new technology we created the Avalon 24 tanning bed quickly became our #1 selling tanning bed. Of course through the years we have greatly improved many many advanced feature available only from ESB.
One very important standard feature in the Avalon 24 tanning bed that is truly exciting are the ESB Sun Express RFL, Reflector, Swirl tanning lamps. The Avalon 24 tanning bed has 8 pink and blue face swirl, 4 pink and blue face/arm/body swirl, 12 blue swirl body lamps for a perfectly balanced tan.
Ask Us Why ....the Avalon 24 Performs like a 42 Lamp Tanning Bed!
With these unique ESB tanning lamps ...as standard features, it will be easy for you to see why nothing else compares to the Avalon 24 home tanning bed. It is important to note when shopping all other brands of home tanning beds - THEY DO NOT OFFER - Reflector tanning lamps especially as a standard feature!
Lastly Consider These Additional Features in Every Avalon 24 Tanning Bed
8 pink and blue face swirl, 4 pink and blue face/arm/body swirl, 12 blue swirl body Tanning Lamps
ESB Swirl Face & Arm Tanners
1,000 hour Lamp Life
Unique Design for Perfect All Around Tan
Ultra Clear Acrylics for Maximum Tanning Power
Maximum Airflow for Quiet and Comfortable Tanning Experience
ESB Green Energy - Saves You Money
Safety Back up Timer - Peace of Mind
Attractive Designer Pedestal
Tanning Accessories: UV Eyewear, Tanning Lotions, Tanning Bed Cleaner
Premium Warranty
Proudly Designed & Manufactured in the USA
Our Most Popular Tanning Bed, The Avalon 24...Tan at Home When Ever You Wan - Get One Today!
Be Healthy, Tan at Home, Get Vitamin D...Naturally with ESB!

To receive your instant email with current PRICING on NEW ESB TANNING SYSTEMS,
please enter your name and email address, then click "Send". We do not Spam! Thanks!